Punters eat rubbish for Earth Day
New Zealand burger chain, Better Burger took a stand for Earth Day (Sunday 22nd April) by challenging its customers to eat everything on their plate, including the packaging, and it went down a treat.
To celebrate the global environmental protection awareness day, the company's Mt Eden restaurant wrapped its burgers in edible packaging and asked customers to eat up.
The edible wrappers proved popular with media featuring on 1 News, The AM Show, Newstalk ZB, Radio Live and Herald on Sunday, amongst many others, ensuring countrywide attention for the chain and a healthy turnout on the day.
More than 500 customers took up the sustainable challenge, leaving the restaurant with empty bins and clean plates.
Better Burger General Manager Rod Ballenden identified Earth Day as a golden opportunity to promote Better Burger's sustainable cred but said the trick was finding the right mechanic.
"People don't want to be lectured when they're chowing down on a burger so we came up with a digestible concept to get the message out that Better Burger is committed to sustainability – not just for Earth Day but every day.
"Eating the wrapper is novel and a bit weird – something for customers to talk about with their mates. It's not every day you're encouraged to eat rubbish," says Rod.
He stressed that the attention-grabbing activation was just one example of Better Burger's commitment to reducing fast food waste.
"We're the only fast food chain in all of Australasia with fully plant-based, compostable packaging. We know people care about this stuff as much as we do, so Earth Day was the perfect timing to go public," says Rod.
The four-year-old company is on the up and up with a sixth restaurant opening before winter on Auckland's Ponsonby Road and sights next set on Tauranga and Christchurch.
"This isn't the last you've seen of Better Burger. We're proud to be a Kiwi company doing business differently and we look forward to getting our teeth into the next campaign," says Rod.
The post Punters eat rubbish for Earth Day appeared first on Hospitality Business.
Pinot & Prosciutto Masterclasses!
New Zealand winery Cloudy Bay plans to introduce a new offering for the month of May called Pinot & Prosciutto, bringing a perfect pairing to satisfy the instinctive desire for warming red wine, balanced with the richness of dry-cured Prosciutto.
Participating chefs selected from throughout New Zealand have each created a signature prosciutto dish designed to complement the Cloudy Bay Pinot 2015 or the Te Wahi Central Otago Pinot Noir 2015. The offering available for the month of May, allows wine and food enthusiasts to purchase each bespoke pairing at a set price from some of New Zealand's most sought-after eateries.
To further bring Pinot and Prosciutto to life, Cloudy Bay has teamed up with Gusto in Auckland and Foxglove in Wellington to host a Pinot & Prosciutto Masterclass. Under the guidance of top New Zealand Chef's at Gusto and Foxglove alongside Platter Artisan Kate Marinkovich of Tomboy in Wellington, guests will take part in a masterclass highlighting elements of prosciutto paired with the unique Cloudy Bay Pinot Noir.
"It's exciting to work with internationally recognised winery Cloudy Bay on this year's new pairing, I've curated a bespoke prosciutto platter that is designed to complement the Cloudy Bay Pinot Noir 2015 range with the salty and sweet taste of the Prosciutto a perfect match for the smoothness of Cloudy Bay's Pinot Noir," says Sean Connolly, world renowned head chef of Gusto at the Grand.
Bespoke high end sharing platters are proving to be a popular consumer choice, and this year the addition of ticketed masterclasses adds another element to the offering, allowing patrons to not only enjoy Pinot & Prosciutto with friends at participating accounts but take part in an interactive Masterclass with a take home Cloudy Bay chopping board. Limited tickets are available for the events, with dates soon to be announced.
"Following four successful years of Cloudy Bay Pinot and Duck, we are thrilled to be teaming up with top Chef Sean Connolly and Wellington-based Platter artisan Kate Marinkovich to bring to life the new Pinot & Prosciutto pairing and to offer their prosciutto knowledge and styling expertise. The ticketed masterclasses will complement the outstanding culinary pairing dishes available in participating accounts nationwide," says Ali Campbell, Cloudy Bay Senior Brand Manager.
With over 20 renowned chefs participating nationwide, Kiwis will have the chance to enjoy the incredible food and wine match that never disappoints and with long, cold nights approaching, a bottle of warming Cloudy Bay Pinot Noir is sure to be at the top of many winter red wish lists.
The post Pinot & Prosciutto Masterclasses! appeared first on Hospitality Business.
Bottomless pizzas – a new concept
The Gordon Ramsay Group has quietly opened a new concept Street Pizza eatery at the same site as Bread Street Kitchen in London.
Situated in the downstairs area of Ramsay's globally-inspired Bread Street Kitchen restaurant at One New Change in St Paul's, London, Street Pizza offers "bottomless" Neapolitan-style sourdough pizza for £15 (NZ $29) as well as cocktails, craft beers and late-night entertainment. Bread Street Kitchen is still open as normal.
The pizzas come in four flavours: Margherita, pepperoni, charred aubergine, and corn and chorizo, with a daily changing special.
Ramsey's new venture does not accept bookings and the restaurant also has cocktails from £6 ($NZ 11.00) , a Negroni ice-cream machine, and a line-up of female DJs throughout the week.
Ramsay said: "If there's one thing I believe it's that pizza doesn't need to be complicated. So, let me introduce you to simple, delicious bottomless pizza – served by the slice so you can enjoy as much of each of our signature toppings as you like. It's pizza without rules."
The post Bottomless pizzas – a new concept appeared first on Hospitality Business.
First Queenstown Hospitality Awards open for nominations
Queenstown's flourishing hospitality industry is to be celebrated at the inaugural Queenstown Hospitality Awards, an industry event aimed at highlighting the very best of the region.
Established by the Restaurant Association of NZ and lead partner Trents Wholesale, the awards are an important development for the region, as Queenstown continues to be recognised globally for its distinction in tourism and hospitality.
CEO Marisa Bidois says, "It's imperative the hospitality industry recognises its champions as it provides not only a peer benchmark for excellence but also serves to give people valuable guidelines on the best places to visit".
With more than 16 award categories, the best of Queenstown's hospitality industry – from crew members, to suppliers, to establishments – will be celebrated for their contribution in creating a world-class hospitality industry in Queenstown.
The relevance of the event has attracted support from local and national category sponsors signing up to be part of the inaugural event including Meadow Fresh, Hellers, Pernod Ricard, Federal Merchants, Antipodes, Menumate, Southern Hospitality, Crombie Lockwood, OneMusic, Negociants, GrabOne, Harrows, NZI, First Table and host venue Skyline Queenstown.
Nominations are now open to the industry until Thursday, 26 April. Final voting will begin on Monday, 30 April and winners will be revealed at the highly anticipated awards evening on Monday, 28 May at Skyline Queenstown. Queenstown general public are also able to vote for their favourite establishment in the First Table People's Choice Award category.
Queenstown Hospitality Awards 2018 Categories
Meadow Fresh – Outstanding Barista of the Year
Hellers –Café of the Year
Pernod Ricard – Outstanding Bartender of the Year
Federal Merchants – Bar of the Year
Antipodes – Outstanding Waiter of the Year
Menumate – Outstanding Front of House Team
Southern Hospitality – Outstanding Chef of the Year
Restaurant Association – Emerging Talent of the Year
Crombie Lockwood – Outstanding Central City Establishment
OneMusic – Best Ambience & Design
Negociants – Outstanding Wine Service Professional
GrabOne – Winery Restaurant of the Year
Harrows – Restaurant of the Year
Restaurant Association – Outstanding Sales Rep of the Year
Restaurant Association – Specialty Supplier of the Year
NZI – Goods & Services Wholesaler of the Year
First Table – People's Choice
Skyline Queenstown – Outstanding Hospo Hero
For more information or to purchase tickets to the awards evening please visit www.hospitalityawards.co.nz/queenstown
The post First Queenstown Hospitality Awards open for nominations appeared first on Hospitality Business.
Asia's best pastry chef 2018
Before an audience of his peers, industry VIPs and international media gathered at Wynn Palace, Macao, Nicolas Lambert received the Asia's Best Pastry Chef Award 2018, sponsored by Valrhona. Lambert was presented with his trophy as part of the awards ceremony for Asia's 50 Best Restaurants, sponsored by S.Pellegrino & Acqua Panna.
William Drew, Group Editor of Asia's 50 Best Restaurants, said: "Nicolas Lambert's cutting-edge creations are truly inspirational. His delicate desserts reveal his meticulous attention to detail, his passion for perfection and his innate mastery of flavour combinations."
Born into a family of patissiers in Epinal, France, Nicolas Lambert learned his craft from acclaimed French pastry chefs. Beginning his career at Pâtisserie du Musée at Epinal, his culinary skills were evident from an early age. At 21, he enrolled in the Festival National des Croquembouches competition and, despite competing against some of France's most experienced chefs, became the youngest participant to win first place.
Building on his initial success, Lambert was appointed pastry commis at Pâtisserie Sébastien Bouillet in Lyon. He later worked alongside French master pâtissier Christophe Michalak at Hôtel Plaza Athénée in Paris where he oversaw the illustrious hotel's desserts menu and legendary afternoon tea. In 2015, the award-winning chef joined Four Seasons Hotel Hong Kong as pastry chef for Caprice, the property's celebrated French restaurant. His signature dessert, Raspberry, reflects his style by playing with the structural possibilities of seasonal fruits, sugar, egg whites, flour and chocolate. Chef Lambert's artful, architectural creations have attracted fans from all over the world, evident from his 88,000-plus Instagram followers.
"Valrhona would like to congratulate Chef Nicolas Lambert on winning the Asia's Best Pastry Chef award," says Wenceslas Wedrychowski, Area Manager at Valrhona Asia-Pacific. "This award reflects his dedication and enthusiasm for the pastry world since the day he has joined the industry. Moreover, his creations are very inspiring and mesmerising. On behalf of Valrhona as a whole, we wish him many years of great and spectacular achievements to come!"
How Asia's 50 Best Restaurants list is compiled
The list is created from the votes of the Asia's 50 Best Restaurants Academy, an influential group of over 300 leaders in the restaurant industry across Asia, each selected for their expert opinion of Asia's restaurant scene. The panel in each region is made up of food writers and critics, chefs, restaurateurs and highly regarded 'gastronomes'. Members list their choices in order of preference, based on their best restaurant experiences of the previous 18 months. There is no pre-determined check-list of criteria, but there are strict voting rules.
For the 2018 edition, Asia's 50 Best Restaurants is once again working with professional services consultancy Deloitte as its official independent adjudication partner. The adjudication by Deloitte ensures that the integrity and authenticity of the voting process and the resulting list of Asia's 50 Best Restaurants are protected. To see more details on Asia's 50 Best Restaurants voting process, visit http://www.theworlds50best.com/asia/en/our-manifesto.html
The post Asia's best pastry chef 2018 appeared first on Hospitality Business.
Creativity key to chef's success
QT Museum Wellington is excited to introduce Mark Hsiong to the Wellington food scene as newly appointed Head Chef of its Asian Eating House and Bar, Hot Sauce.
Mark Hsiong has international culinary experience in Singapore and North America working with world renowned chefs such as the two Michelin Star Sergi Arola, Alfonso Castellano, David Munoz and as a stagiere for a Relais & Château Grand Chef.
Inspired by time spent in international kitchens, Hsiong is excited to make his mark with QT Museum Wellington.
"I love that each QT hotel has its own sense of identity, it's so unique. Previously, chain hotels I've worked with are pretty much a carbon copy of one another and doesn't allow any creativity. I can't wait to join QT and work with a small, tight knit team that are fiery, passionate and collaborative. Watch this space Wellington!"
Hsiong is looking forward to bringing new flavours to HOT Sauce and will focus on making the most of seasonal delights and showcasing traditional Asian flavours with contemporary styling.
"With a new menu unveiled this week, Hot Sauce's new direction will couple the freshest and finest ingredients with a commitment to authentic flavours," he says. Hot Sauces' new menu will include signature dishes of:
KOMBU CURED TUNA with Honey Truffle Ponzu, Daikon, Furikake
FREE RANGE SHANGHAI PORK POT STICKERS with Sichuan Sauce
CRISPY SOFT SHELL CRAB with Singapore Style Chilli Crab Sauce, Fresh Asian Herbs, Toasted Rice
FREE RANGE POPCORN CHICKEN with Smoked Maple, Sriracha Mayo, Salted Pineapple, Fried Garlic
Hsiong is quick to point out locals need not fear, as not all menu favourites will be disappearing.
"We recognise Hot Sauce has a very loyal local fanbase since opening in last September, and I'm pleased to say crowd favourites such as our Free Range Pork Pot Stickers and Akaroa Salmon Sashimi will continue to be on our menu."
Guests can also expect creative concoctions in cocktail form to match the explosive flavours and textures of the menu. Hot Sauce signatures such as the Gangnam Shiso Style, with flavour hits of chili, watermelon and shiso leaf infused vodka or the ever-so-popular Nashi Pear Mule, made with Suntory whisky, nashi pear, mint and ginger beer will also remain."
"Mark brings a bold approach and will continue QT's inventive, playful and nostalgic approach. After years of travelling, exploring and experiencing the international food scene, Mark reflects the essence of our reputation of landmark dining experiences", says QT Museum Wellington General Manager, Garth Solly.
For more information, visit www.qthotelsandresorts.com. QT first burst onto the hotel scene with the launch of QT Gold Coast in 2011. The collection of properties in Australia includes QT Gold Coast, QT Port Douglas, QT Falls Creek, QT Canberra, QT Bondi, QT Melbourne with flagships QT Sydney.
.
The post Creativity key to chef's success appeared first on Hospitality Business.
Ben Bayly becomes top pie judge
He's a household name thanks to the enormous success of Auckland restaurants, The Grove, where he was executive chef until recently, and Baduzzi on Auckland's Wynyard Quarter waterfront. Some will recognise him from the first two seasons of My Kitchen Rules NZ. Now Ben Bayly is preparing for another challenge as this year's NZ Bakels Supreme Pie Awards celebrity chef judge.
It's an honour he's thrilled to accept especially as pies, as treats, rank pretty highly in his choice of a meal. "I'm a steak and cheese guy. I just can't go past it. It's bloody yum."
In fact as this interview is being conducted at his new restaurant, The Grounds in Henderson, a couple of gold-winning pies are being heated for a photo but the wafting aroma of them is proving a serious distraction.
Ben remembers with fondness yearning for a pie when returning home to New Zealand for a break occasionally while away for 10 years, initially training at the Johnson & Wales University of Culinary Arts in Providence, USA, then cooking in some of the best restaurants in the world in the United States, UK, Europe and Melbourne.
"I used to come home every two years or so and dad or mum would pick me up at the airport and I'd always stop at a service station to get a pie straight off the plane. That was in my 20s. I left when I was 19 and came back at 30. You just can't get a good Kiwi pie overseas."
He still thinks of Te Awamutu as home – he grew up there on a farm and attended the local college – and neighbouring Kihikihi, where his wife is from and grandfather still lives, as the best place in New Zealand to buy a pie at Viands Bakery. "They know how to make a pie and I like the fact that it's in the middle of nowhere but people know, they know about it."
Like his career thus far as one of this country most successful chefs and restaurateurs, he's taking the chance to judge New Zealand pies seriously, and he certainly knows what he's talking about when he mentions tastes, textures, and keeping pie recipes honest.
"I'm not a big fan of the yellow pastry. I like things to taste the way they are meant to. I know puff pastry well; I make it, so I like a nice puff pastry top and a short pastry bottom. No cheating on the gravies! Nothing artificial, I'm an 'all natural' guy. I'm all about using a nice arrowroot, cornflour or even a nice roux to thicken the pie, that's no problem for me because you just can't eat a pie without it. I'm not big on the artificial salts and MSGs and I'll taste it straight away. So if it's a steak and cheese pie I want to see beautiful braised beef, chuck. Lamb shank pie is one of the most beautiful things around too, braised lamb shank. Just no cheating when it comes to flavour. I will taste it and I'll come down on you!"
Ben describes the pie as 'every person's food' saying "they deserve to have their pie made properly".
He's also looking for a return to vegetables in pies.
"Remember back in the day when they had peas and carrots in pies? What happened to that? They were just frozen peas and carrots but beautiful! That was another nostalgic moment for me; back at school my pies had peas and carrots in them. They're a natural sweetness. Use vegetables to bulk out the meat, they're cheaper than ready-made gravies and even frozen is fine."
Ben declares he's not a pie-making expert but he is a taste expert. "And I know my pies."
In the Gourmet Meat and Café Boutique categories he's looking for distinctive flavours.
"I like hangi pies. I'd love to see a hangi pie in the competition. When you make a pie you have to visualise how people re-heat it and hold it. So you can only use ingredients that lend themselves to that technique of re-heating. You can't make an eye fillet pie; it would be a waste of time. Seafood is a very delicate ingredient; you've got to be really careful how you make it. A paua pie, for instance, would be delicious because minced paua would hold really well."
If you're thinking of making a really traditional-style pie, then you are already on Ben's wavelength. He says the right ingredients are those that are slow-cooked like veal cheeks, lamb sweetbreads, cheaper cuts of meat, even offal.
"Think about the contrasting texture in a pie. You bite through the pastry which is textural and then you want to feel the difference of the filling in your mouth. Show economy using interesting cuts of meat that don't cost much money. Think about supporting organics too; there's no reason why you couldn't make an organic pie.
"The way we eat food is changing and people who make pies will be thinking about changing too," says Ben.
He hopes to see what they come up with for the 22nd NZ Bakels Supreme Pie Awards.
Key Dates:
Entries open – May 1
Judging Day – July 26
NZ Bakels Supreme Pie Awards – July 31.
The post Ben Bayly becomes top pie judge appeared first on Hospitality Business.
Prof's on Alexandra reopens in Hamilton
Hamilton foodies and inner-city workers have an exciting new place to wine and dine with the relaunch of Prof's on Alexandra this week.
The Alexandra St eatery, a short work from Garden Place, is owned and run by well-known Waikato foodies, Kate and Allan Wilson, who are also behind the successful café, Prof's at Woodlands in Gordonton.
Prof's on Alexandra has recently been awarded an on-license and is changing its focus to a café/restaurant serving tapas, fine wine and funky cocktails.
"It's in the heart of the Hamilton's central business district, and we want to be part of revitalising the CBD," says Kate Wilson, co-owner of Prof's on Alexandra. "We will be serving small plates of food, ideal for sharing, and have many unique and delicious items on both our food and drinks menus."
Kate says she hopes "Alex will become a place that businesspeople will be proud to take clients for coffee or a light meal, for friends and co-workers to meet-up after-work or inner-city dwellers to grab a bite before the movies".
Those on the run can still take away coffee, muffins, slices and salads.
The café/restaurant will initially be open weekdays, for daytime and early evening dining and drinks, from 10am until 7pm.
"We have something for everyone," says Kate. "Allan and I have spent a lot of time creating a range of delicious taste sensations and flavours we hope people will enjoy."
Crowd pleasers include chicken parmigiana nibbles with sriracha mayo and ciabatta bombs, which are particularly moreish, says Kate. "We've taste-tasted the lot, and can't wait to share the menu with Hamilton foodies and business people."
There are a number of gluten free and vegan dishes on the menu. "We understand that many people have dietary challenges, so almost every dish can be modified to suit diners. One of my favourite dishes is roasted portabello mushrooms with hint of creamy blue cheese and toasted walnut gremolata, which was created with our gluten free and vegetarian customers in mind," says Kate.
Also on the menu is black pudding served on rye with red cabbage sauerkraut. "You have to try it, the colour and flavour combinations are fantastic," says Kate.
The Wilsons have a love of food and a background in science. "We love experimenting with flavours and making our own ingredients from scratch," says Kate, who has a Master of Science degree.
Alex's speciality cocktails will include a range of infused spirits created by the Wilsons, including chilli vodka, kaffir lime gin and a spiced rum. They also have their own range of Prof's branded products, including dukkah, chilli jam and preserved lemons, some of which will also appear on platters.
Kate's food legacy goes back many years. In 2007 she wrote and published a book called Platter Chatter, on the art of creating the plates of food to share, and with a range of delicious recipes she and Allan developed in their home kitchen in Hamilton.
Kate has served as a board member of Waikato Food Inc., a non-profit group which works to develop and promote the Waikato food and beverage industry, and has appeared as a contestant on TVNZ's MasterChef.
Some Waikato products will feature on the menu, including mini platters containing Bellefield cured butter from Cambridge, and chutney and condiments from Te Kauwhata producers Peplers and CuisineScene. "We also serve great coffee using Essenza coffee beans from Morrinsville," says Kate.
An on-site deli will also sell some menu items, so people can take home quality cheeses (including vegan cheeses) and condiments to make platters at home.
The Wilsons hope that their location near Garden Place will appeal to tourists, inner-city residents and businesspeople, and bring another great eatery to Hamilton's foodie scene.
A catering arm is part of the business growth plan, says Kate. "As the café takes off we plan to offer platters for meetings, functions and events in the CBD."
The post Prof's on Alexandra reopens in Hamilton appeared first on Hospitality Business.
Dining Dans Le Noir
Discover a truly unique, sensory dining experience, surrender to the dark and be surprised by tantalising textures and delicious flavours at a sumptuous three-course dinner in Auckland – the first city in the Pacific offering the original Dining In the Dark concept.
Dans le Noir (French for "In the Dark") is an international company offering patrons a unique experience by eating in complete darkness, guided and served by blind people. More than 1.3 million people have already lived this experience worldwide with Dans le Noir. Your evening will be full of conviviality, excitement and a memorable once-in-a lifetime experience. Dining in absolute darkness is a sensory experience that awakens senses and enables guests to completely re-evaluate their perception of taste and smell. Communication in the darkness becomes more intense, authentic and spontaneous.
Rydges Auckland will surprise your senses as never before! This unique sensory experience offers surprise menus in three different versions (Trust the Chef, Seafood or Vegan), which you can enjoy in a very comfortable setting. The three special menu options are adapted to total darkness and are freshly created by Owen Rarity, the Head Chef of Rydges Auckland and his team, trained by the experts of Dans le Noir to adjust menus to the environment. Fine wine pairings enrich this unique sensory experience. Dinner in the dark is available every Thursday, Friday and Saturday, from 6:30pm to 7:30pm and during the month of April you can experience a very special menu matched with exquisite Sacred Hill wines.
Blind people work not only as waitstaff but also as your personal guides during this experience. Reversing roles, the guide becomes patrons' eyes for the time of the dinner.
This 60-seat exclusive venue offers one to three services a day from Thursday to Sunday (schedule available online). The restaurant also welcomes corporate, private and special events, such as business functions, team building, diversity awareness, blind tasting, music or cultural events in the dark on request, every day of the week.
The staff hiring and training for this event in Auckland is conducted by Dans le Noir experts in partnership with the Blind Foundation. The Blind Foundation is New Zealand's main provider of practical and emotional support for the 12,100 Kiwis who are blind or have low vision, enabling them to face their future with confidence.
Dinner in the dark is available at Rydges Auckland Thursday, Friday and Saturday, from 6:30pm to 7:30pm
Prices:
$95 for a 3-course menu
$122 with wine matching
To book contact:
email: rydges-auckland@danslenoir.com or by phone: 09-375 5920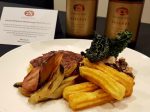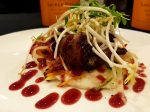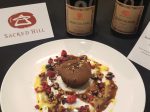 The post Dining Dans Le Noir appeared first on Hospitality Business.
World-first accolade for Ōra King Salmon
Ōra King salmon has once again shown it is the premium choice for Kiwi chefs, receiving a four-star rating from the Global Aquaculture Alliance.
The rating is the highest possible designation for responsible aquaculture production and means Ōra King is the first in the world to offer four-star Best Aquaculture Practices (BAP) King salmon to the food service market.
"Put into restaurant terms, this is the equivalent of earning a Michelin star" says New Zealand King Salmon CEO and Managing Director Grant Rosewarne.
"At Ōra King, we've always prided ourselves on supplying chefs with the finest quality King salmon that's produced in a responsible and sustainable way, so we're thrilled to have received this certification from the Global Aquaculture Alliance.
"We've invested heavily over the years into growing the best King salmon for the food service industry, and we're constantly working on being even more environmentally sustainable, because we know that's what our customers demand," he says.
"It's particularly pleasing to be the first in the world to be able to supply four-star BAP King salmon. We've always been confident Ōra King salmon is amongst the best there is and this accolade is clear proof of that."
The accolade comes following an audit of New Zealand King Salmon's major feed supplier, Skretting, and provides independent verification that the company's flagship food brands have originated from a BAP-certified feed mill, hatchery, sea farm and processing plant.
The post World-first accolade for Ōra King Salmon appeared first on Hospitality Business.
Newsletter
Sign up here and keep updated with what's going on in your industry!